ALBACORE TUNA
The blood pumping memories from last years tremendous tuna season are still alive and well aboard the Tornado! As we prepare for another successful season, we are looking forward to an action packed day! Make room in your freezers for the tuna you will catch aboard the Tornado.
Be sure to bring warm clothes, a sleeping bag and enough food to tide you over. Our boat has a RSW refrigeration system to keep your fish fresh at the perfect temperature. The Tornado takes up to 10 people per trip, which is ideal for a group of friends to charter the whole boat!
Our trips board at 8:00 PM every Monday, Thursday and Saturday starting in August and go through the beginning of October.
Trips fill up quickly, so don't wait and plan your trip today!
Trip cost of $620 includes bait, gear & tax.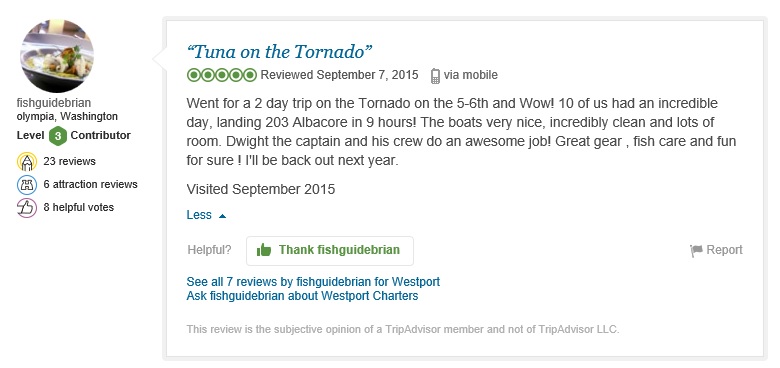 Season opens March 10, 2018! This is your chance to load your freezer with tasty whitefish fillets! Historically, lingcod fishing excels in the spring months and there's a big out out there wait for you. Limit of (7) Rockfish and (2) Lingcod. Come on out and get your line wet!
Check-in by 6:00am at the office.
Weekday pricing - $145 until June 30th, $155 after that date; includes bait, gear & tax.
Weekend pricing - $155 includes bait, gear & tax.
A fantastic trip for those interested in a 2-for-1 fishing opportunity. This popular trip start date is based on salmon availability.
On these trips we target salmon and rockfish, which means plan for a slightly longer day and some fish to take home and fry!
Check in by 5:00AM at the office.
Cost per person: $220 includes bait, gear & tax.